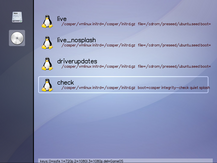 The next version of petitboot - the graphical bootloader for the PlayStation 3 - is now out.
Some notable changes in the v0.2 build:
PS3 controller support
Improved bootloader config file parsing, should now recognise most setups "out of the box"
OtherOS images are now based on OpenWRT, so we have a more complete linux environment
UUID= and LABEL= device specifications are now supported
Better montior detection with the 2.6.24 kernel
See the petitboot project page for more details and downloads. I've also built an OtherOS image with remote access support, so it's now possible to ssh to your bootloader.